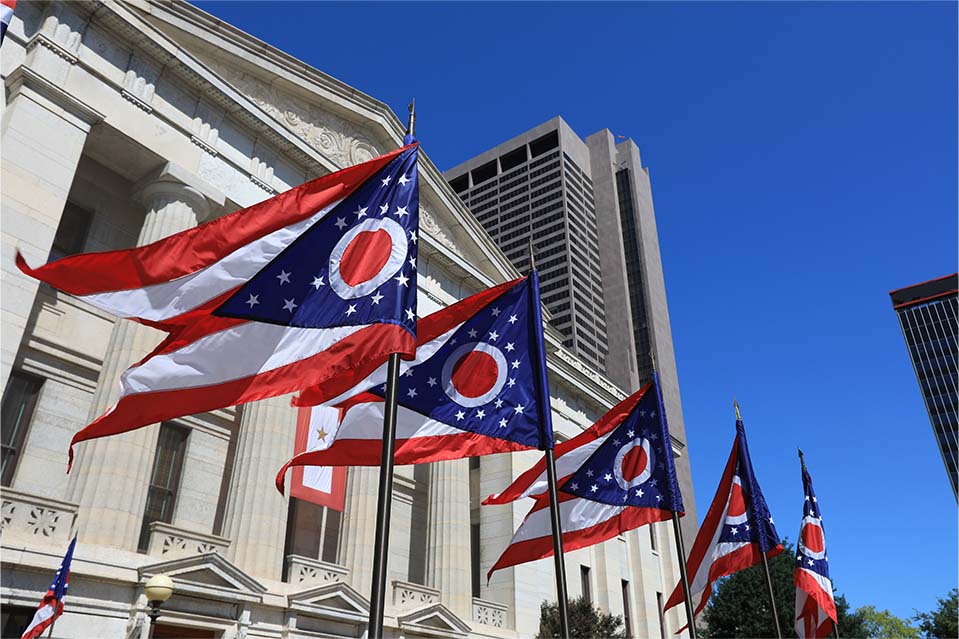 A Blueprint for improving Ohio's Economy and Quality of Life
Many residents of the Buckeye State can't attain prosperity because of government-constructed obstacles. Ohio's economy, for example, was rated a lackluster 31st in CATO Institute's annual Freedom In The 50 States report. Our economy even took a back seat to neighboring states Indiana (6th), Michigan (7th) and Pennsylvania (14th). Anemic population growth of just 2.3% over the past decade (compared to 7.4% nationally) cost Ohio a seat in Congress, thanks to limited employment opportunities and overall paltry economic performance. The state's economic health is so poor that Ohio had more people move away than 41 other states.
But this is Ohio, home of the Wright Brothers and birthplace of seven American presidents. We have a proud history, and through a series of greater, bolder policy solutions, the Buckeye state can improve its trajectory and secure better, more prosperous lives for its families.
Removing barriers to economic opportunity for all.
Ohio's government needs to get out of the way and allow Ohioans to make their own economic choices. Among other things that means eliminating our state income tax in the next five years. Residents of the nine states without a state income tax enjoy lower overall effective tax rates. On the other hand, higher state taxes typically suffer lower economic growth, gross state product and even population loss. State agencies' ever-growing regulatory restrictions should be reviewed and streamlined where possible. Removing barriers to economic opportunity must include ensuring that union membership is voluntary and that no individual is forced to pay dues as a condition of employment.
Driving personal options in health care.
Ohio's lawmakers have proven themselves able to modernize healthcare by permitting telemedicine, which increased accessibility, efficiency and affordability at the height of the Covid crisis. More still needs to be done, and Ohio should pass full practice authority to empower medical professionals while protecting patients. Instead of regulating healthcare to death, Ohio must allow innovation to flourish and ensure patients have a wide range of choices.
Reforming the criminal justice system to protect people and ensure public safety.
Ohio's General Assembly has an opportunity to create a national model for cash bail and pretrial reform through SB182 and HB315. These changes would ensure that true threats to public safety are incarcerated while ensuring no one languishes behind bars pretrial because they can't afford bail. Likewise, efforts to pass drug sentencing reform must continue.
Advancing educational opportunities for everyone.
Ohio's most recent budget increased educational opportunity through vouchers, for which Gov. DeWine, Speaker Cupp, and Senate President Huffman deserve credit. Enacting universal Education Savings Accounts, or simply making the application process for current voucher/scholarship programs more straightforward, would put parents in a better position to make the best choices for their kids. Meanwhile, Ohio families seeking educational opportunities must be protected from ideological attacks in our courtrooms.
AFP-Ohio has launched www.BuckeyeBlueprint.com to raise the banner for these and other policy reforms that benefit all Ohioans. We propose a range of reforms, but our focus is on empowering the people of Ohio and getting the government out of the way. Transforming the state and surmounting economic and quality-of-life challenges is going to take engaged communities who will embolden Ohio's elected officials to move forward. Afterall, this is Ohio where together all things are possible.
Donovan O'Neil is the state director of Americans for Prosperity Ohio.