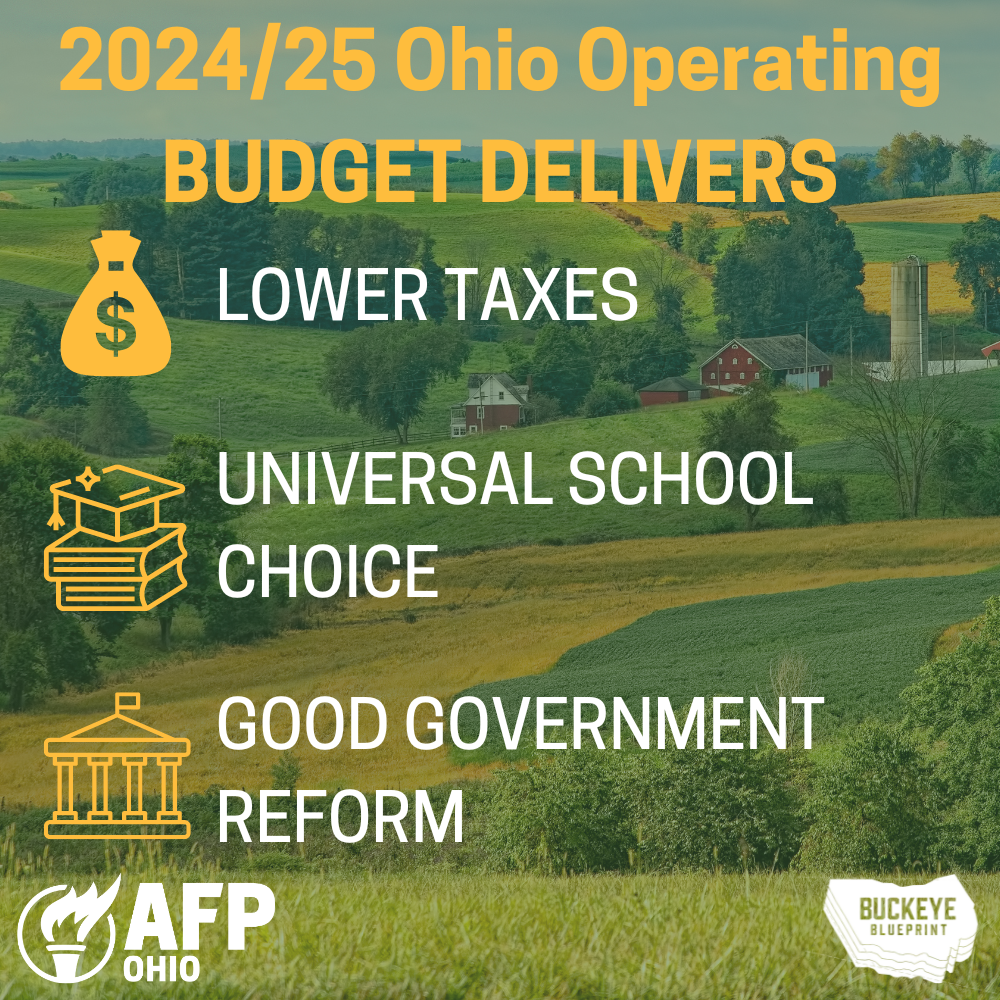 Advancing Buckeye Blueprint with Tax Cuts, School Choice, and Government Reform
Ohio's recently signed budget, with a record-breaking $86.1 billion in State General Revenue Fund (GRF) appropriations (total appropriations over $190 Billion), is a significant growth in state spending. But, within this massive spending package some key Buckeye Blueprint initiatives are advanced.
This budget prioritizes tax cuts, promotes school choice, and introduces essential government reforms.
Spending and Tax Policy:
The finalized budget allocates $6.2 billion more in state GRF appropriations compared to the previous biennium, resulting in a total GRF increase of $9.6 billion over the 2022/23 biennium.
Notably, this budget includes a remarkable $3.1 billion tax cut, benefiting wage earners, job creators, and consumers throughout Ohio. The top marginal income tax rate is reduced from 3.99% to 3.50%, while income tax brackets are streamlined to just two. Furthermore, the Commercial Activity Tax (CAT) is reduced, providing relief to businesses, with 90% of Ohio businesses exempt from paying any part of the Gross Receipts Tax.
Universal School Choice:
Recognizing the importance of educational options for Ohio families, the budget introduces a universal school choice provision. Under this provision, families below 450% of the Federal Poverty Level (FPL) will be eligible for full vouchers, encompassing an estimated 82% of Ohio families. Families over this income threshold will receive varying levels of assistance based on a sliding scale. This expansion empowers parents to make informed decisions about their children's education and ensures that resources are available to support their choices.
Government Reform:
Incorporating good government policies, the budget includes Senate Bill 1 (SB 1), aimed at improving accountability at the Ohio Department of Education. By streamlining and enhancing implementation processes, SB 1 seeks to deliver timely and effective school choice programs. These reforms will create a more efficient education system, benefitting students, parents, and the state as a whole. Avoiding future situations like the botched ACE Scholarship implementation.
Conclusion:
More work is necessary to move Ohio from middle in the mid-west to #1 in the nation. Especially on curbing the staggering growth of state government spending.
Yet, the final version of the state operating budget – with its emphasis on tax cuts, school choice, and government reform, sets a bold precedent for the Buckeye state. As we move forward, these measures pave the way for a more prosperous and promising future, advancing the Buckeye Blueprint campaign's vision.