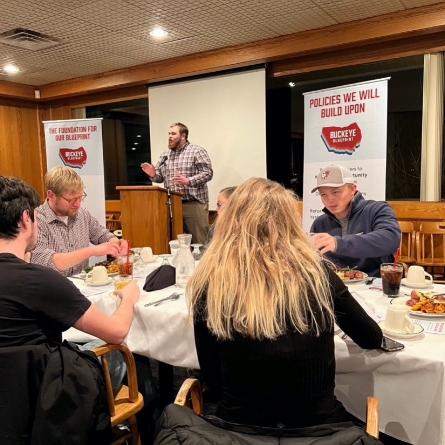 Buckeye Blueprint 2022 Kick-Off
02/01/2022
BOWLING GREEN–
We started our 2022 listening tour off on the right foot in Bowling Green. Engagement Director Douglas Simpson opened the night by talking through the many victories AFP-Ohio activists have experienced and driving in the four years he has been organizing North-West Ohio.

Successes include the Tax Cuts & Jobs Act, SB1 – Red Tape Reduction, Fully Funding Indigent Defense, Campus Free Speech-FORUM Act just to name a few. Each of these victories have pushed Ohio toward more economic freedom and opportunities for everyone.

We spent a significant amount of time focused on health care, discussing needed reforms such as scope of practice on APRNs. This legislation, which would give advanced practice registered nurses greater more freedom to do the jobs they are trained for, has been introduced session after session, but has yet to pass both chambers. Folks in attendance like Kathi W. raised the need to remove barriers from our nurses and empower them to practice to the full scope of their professional training.

If you care about freeing highly skilled nurses sign our petition here: https://americansforprosperity.ivolunteers.com/Sign/Support-Health-Care-Professionals-