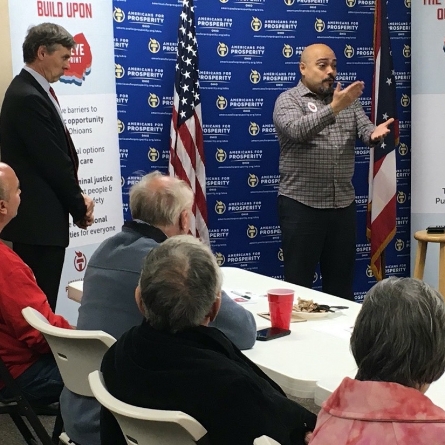 Miami Valley Welcomes Blueprint
12/13/2021
HUBER HEIGHTS–
Miami Valley Engagement Director, Matthew Hurley, welcomed 20 community leaders from the region. They shared their thoughts with Rea Hederman, Director of Economic Research Center and Vice President of Policy with the Buckeye Institute, and Ezra Escudero, Director of Coalitions with Americans for Prosperity Ohio.

Education, Justice Reform and Economic Prosperity received an equal share of time for the evening. With a common theme throughout of reducing barriers to opportunity and increasing second chances.

In the Education Opportunity space many echoed the need for legislation like House Bill 290, the Backpack Bill, which would enable more students to have flexibility with their learning needs.

Across Justice Reform & Economic Prosperity space there was a desire to remove regulatory barriers. Discussion on reducing the overall economic impact red tape can have. Rea & Ezra helped the audience understand how collateral sanctions on those who have completed their criminal sentence can inhibit second chance opportunities for those seeking to turn their life around.

Learn more about HB290 here.

The State of Ohio has a site recently launched that allows individuals to search collateral sanctions. Check it out HERE.