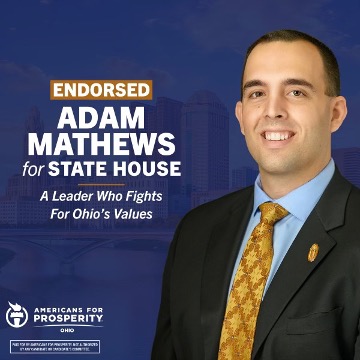 Support Adam Mathews for State Representative
Mathews is the clear choice in House District 56

Fighter. Innovator. Outsider.

Adam Mathews will champion policies in the Ohio House of Representatives that expand educational opportunities, such as the "backpack bill" that allows education dollars to follow children whose parents choose non-traditional education solutions.

Adam Mathews understands the impact that high taxes and spending have on hardworking families, and he will be an advocate for fiscal policies that put families first.

By sending a principled leader like Adam Mathews to the State House, we will be able to build a bolder, better Buckeye state for all Ohioans.